Looking to Pursue coaching in Engineering (JEE) or Medical (NEET/AIIMS) in KOTA?
As far as a business standard article in 2017, India has 7.91 lakh Active doctors catering 1.3billion population in the country which equals to 1 doctor serving 1668 people in the country. With a fast growing population and the need for building infrastructure and technology for such massive Population India would definitely need more doctors and Engineers in the future. These fields will definitely assure you with a Job.
Once you have chosen Engineering and Medical as your career path, the first thing you need to do is to decide on the best  coaching institute.
Choosing the right hostel is equally important to choosing the right coaching.
Being Home 6×18 Rule : In Kota, a kid spends about 6 hours in a day at the coaching institute, and remaining 18 hours outside, mostly within the hostels. So it is equally or rather a more important influencer for a student's selection in IIT or AIIMS exams. As a Parent / Student it is critical to choose a good hostel with the most comforting and rewarding experience. Apart from the basic facilities, the hostel atmosphere should be motivating, the fellow hostelers should be like-minded and focused on their goals that will create the required positivity and motivation for the child..
Check out Hostels in Kota near all major Coaching
We have tried to list down the basic costs incurred by parents annually for your child's coaching in Kota. The cost includes cost of coaching, mess charges, Hostel near Allen, Resonance, Vibrant and Nucleus and other miscellaneous charges for JEE and NEET aspirants.
Cost of Hostels in Kota depends on whether the hostel is close to coaching institute, because this is the most important requirement considered by parents and students before deciding on a Hostel. The hostels close to the coaching institutes are comparatively expensive. Read more on Cost of Living in Kota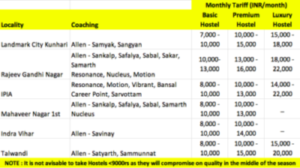 Kota offers reasonable options for social life for students that is normally found in any Tier 2 cities in the country. In regard to the Taste of Kota, Kota loves its savouries and spices. Kachori, Poha and gol-gappas are served across many small food joints across Kota. Apart from these snacks, the staple food of Kota is Wheat, they strive on Roti and Dal
Within the densely populated city, there are many common playgrounds available for some evening sports near Rajiv Gandhi Nagar, Mahaveer Nagar, etc. The city also has some tourist attractions like Seven wonders, Hariyali water park. in a nearby vicinity. Two shopping malls with movie screens, Hanging bridge are amongst the few attractions of students during the weekends. Since the city's economy depends on the students, safety of the students has been the prime focus of the Government authorities. The police and home guards are putting their tireless efforts to monitor any negative influences within the students dense areas. Read more on Student Life in Kota
Major Distractions of Students in Kota.
There is a popular belief that, 'What you think is what you become.' So embrace your mind with positive thoughts, do not get distracted and feed your mind with thoughts other than your preparation for the time you have decided to spend in Kota. Every individual has 24 hours in a day, both physically and mentally, be aware of the thoughts that is running in your mind throughout the day. Make sure you are not thinking about movies, games, relationships, etc. Rather, keep your mind focused on your subjects and on how to better your performances.
For Admission | Contact us.
What you think is what you become!!! Dream Big.
Being Home Hostels | Informative Blogs